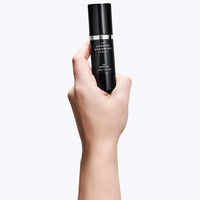 Description
How to Use
Ingredients
Eye Repair Gel provides radiant and firmer skin under the eyes. Formulated with Vitamin E and Hyaluronic Acid, this gel penetrates deep into the skin to nourish and hydrate, leaving the skin looking smooth and refreshed. Use twice a week for best results.
Using your index or ring finger, pat then massage a small amount of the serum around the eye until fully absorbed.
Aqua, Hydroxyethylcellulose, Aloe Barbadensis Leaf, Caprylic Capric Triglyceride, L-Ascorbic Acid (Vitamin E), Hyaluronic Acid, Palmitoyl Tetrapeptide, Chamomile Extract (Flower Extract), Arnica Montana (Arnica Flower Extract), Argania Spinosa Kernel Oil (Argan Oil), Propylene Glycol, Allantoin, Polysorbate 20, Phenoxyethanol, Alpha-Tocopherol.
Key Ingredient
Hyaluronic Acid
Contains anti-ageing properties which help to remove fine lines and wrinkles. Also helps to reduce dark circles around eyes.